What is an Easy Dome? How long time will it take to build?
As the Easy Domes concept is rather untraditional you might have some specific questions.
The domes can be built in all climate zones and on basement in reinforced concrete as a plinth, a reinforced plate, on 10 stable stones – one for each corner, on posts in wood or steel – on land but also in shallow waters.
The domes can be covered out- and inside with any building material. Certain demands might occur to fire resistant inside materials.
The domes can be fully covered with soil and turf. Another possibility is to cover the wooden load construction with clay.
Easy built dome-house in 21 wooden sections ready for mount.
Where can buildings from Easy Domes be seen?
In the the capital on Faroe Islands, Torshavn, one big dome is owned by the Greenland Society on Faroe.Isl. Two cottages are seen north of Torshavn, in mountain area at 175 meter of height. In Denmark some domes are built for family purposes as yoga activities. In UAE some domes are built for beach spare time activities.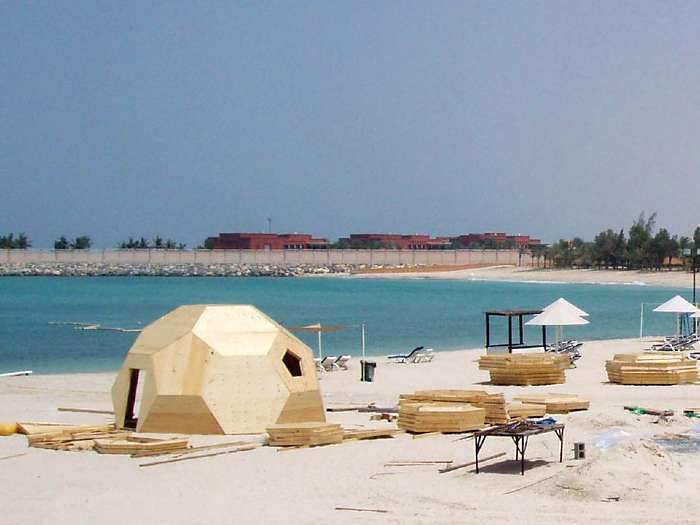 Which are the dome sizes manufactured?
The dome sizes are offered as standard, in basement sizes:
25 m² –  31 m² – 40 m² – 56 m² – 85 m² and 109 m².
How to order, terms and time of delivery?
Order is made by signed contract and conditions for purchase, and delivery on CFR or CIF  arrangements. See Purchase!  Time of delivery will be minimum 3 months from order.
Is Easy Domes a Do-it-yourself-building kit?
It is quite easy to assemble and mount the wooden sections with iron bolts. The small dome can be erected by three men within some hours. The wooden sections for the bigger dome need a small crane because of their seize and weight. Home-builders can reach advantages in this building system, the load construction and its readiness  for out- and inside building works. Professional craftmanship is suggested / needed  for mount of windows and outside works.
Are special connectors or tools needed?
No special steel connectors are needed for assemble of the dome sections. The assemble is made with iron bolts and nuts, and by use of traditional tools for wooden build work.
Can Easy Domes fulfill building rules, standards and international codes?
The buildings sections are manufactured according to EU codes and standards, and marked as a certified product available for international market.
How long time will it take to build an Easy Dome?
When the 25 m² dome has been mounted on a plinth it can be built an finished for interior within 4 to 6 weeks. Two to three men can make the work. The bigger domes can be built within 12 weeks.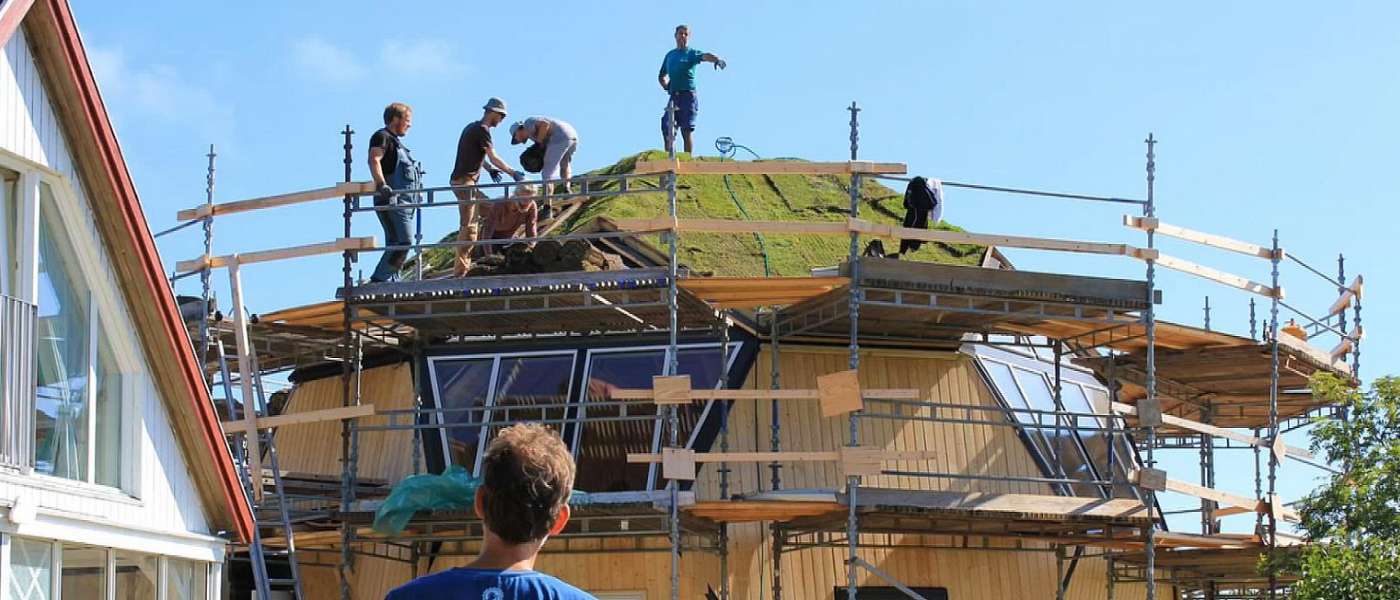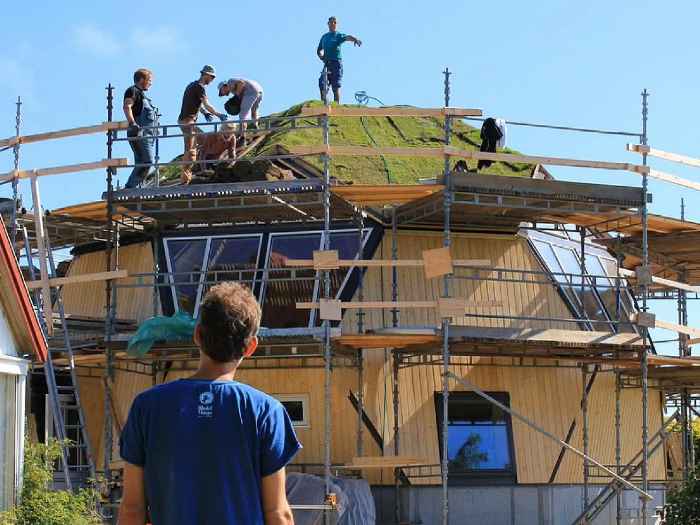 How does Easy Domes comply with demands to sustainability?
All building materials are wood and nature products, as glass, aluminum, rubber a.m. Low-energy and passive house standards (max. 15 kWh/m²/year),  – ventilated climate membrane – no inside humidity membrane  (raincoat feeling)  – electricity from renewals as wind, photovoltaic, of- or on grid-connection and supply to heat-pump. Further options for heating can be solar panels, vacuum tubes combined to mass stove for supply to insulated 300-600 liter water tank storage.   
Easy Domes in different climate zone and nature conditions?
The products is transportable and easy moveable. Repairs for wood are easy to make, and with advantages  to all cultures. The highly simple and very strong building kit is implementable to all climate zones and can be built and practiced for a wide range of purposes. 

The load construction is calculated to stand wind speed at 100 m/sec. (360 km/hour) with one meter of wet snow on roof.