All building materials are wood and nature products
The load construction is calculated to stand wind speed at 100 m/sec. (360 km/hour) with one meter of snow on roof.
Any sustainable building material can be used for in- and outside walls, flooring and roofing, but some materials have advantages in building the Easy Domes-houses.
The outside walls are all ventilated and a here a wooden framework shall be mounted for the mount of the climate mambrane – preferable vertical wooden boards or thinner reinforced boards of concrete.
The aluminum flashing is here of great importance and are manufactured to fit to the choosen outside coverage.
The building system makes an highly hermetic house, and has been tested to leak 0,01 Litre/m²/sec. (maks. 1,5 L). Easy Domes suggest at least one ventilator shall be installed in top of the dome.
Ventilation is in general as natural and with valves and windows / doors to open. Kitchen and bathroom have air-valves. The large dome-roof is installed with an 160 m3/h ventilator.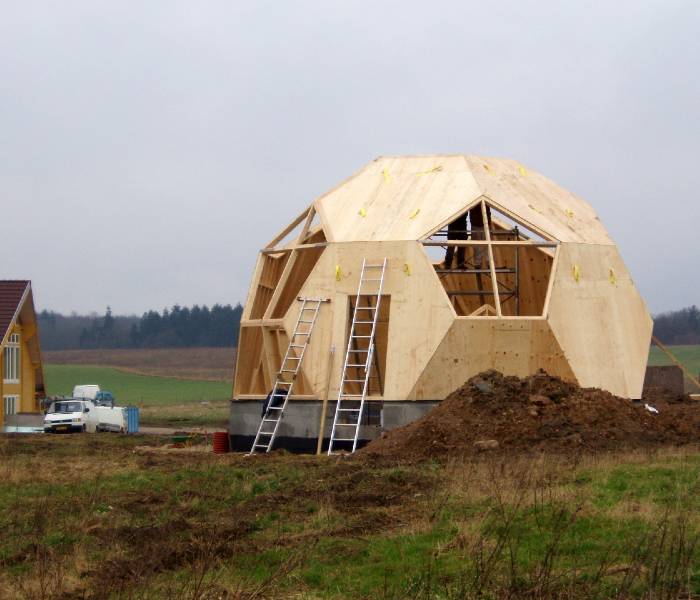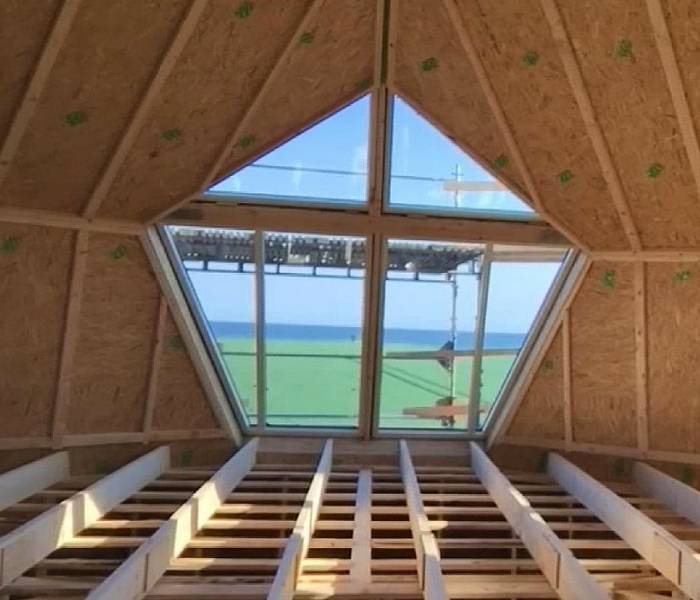 Inside - Climate conditions
The inside climate comfort is important, and therefor the first suggestion is to use indoor certified and sustainable materials without i.e. formaldehyde outgassing. Inside wall – dome coverage is easy to make with interior-plywood OSB/2 (Oriented Strand Board) on a pine framework.

The thick hygroscopic insulation in large domes i.e. paper-wool in 350 mm + 50 mm in sheep-wool  has the possibility of  supporting a "breath-able" wall-roof construction, and without use of a traditional humidity membrane. Ventilator in dome-top is installed for such construction. Partition walls and floor to bathroom / technician room is arranged with humidity membrane.
Flooring can be build in different manners, either laminated boards on a base-plate to below beams, or with solid wooden boards direct on the floor beams. The ground floor is often build up wooden floor on a plate of 100mm concrete build on presure resistant insulation. Or solid floor beams with insulation to a ventilated cellar/base. Floor-heat is preferable to heatpump systems.
Technical appliances for heat, hot water, ventilation as electricity, IT, and in- and outlets, are to be arranged according to the intended use and interior of the dome.
In general sustainable energy supply from solarcollectors and heat-pumps are highly beneficial, as noticed to on- or ofgrid electrical connections. 
Room- and hot water supply can be installed with different combined appliances as to the type of grid-connection, and with advantages to floor-convectors for room heat added to a tank-storage with immersion heater at 3 kW to 6 kW.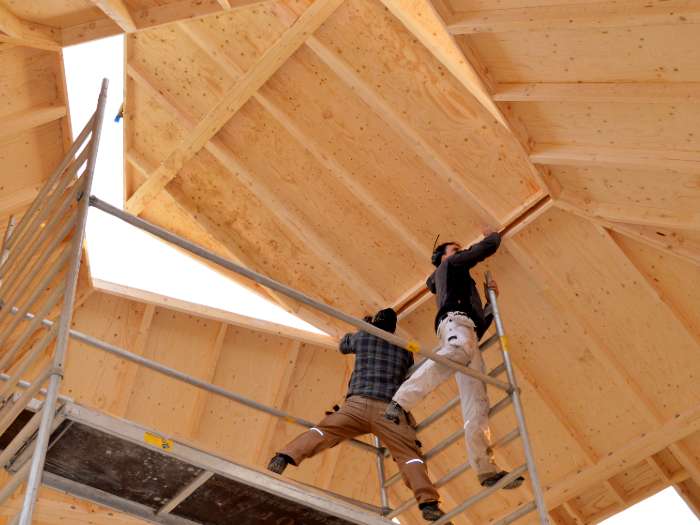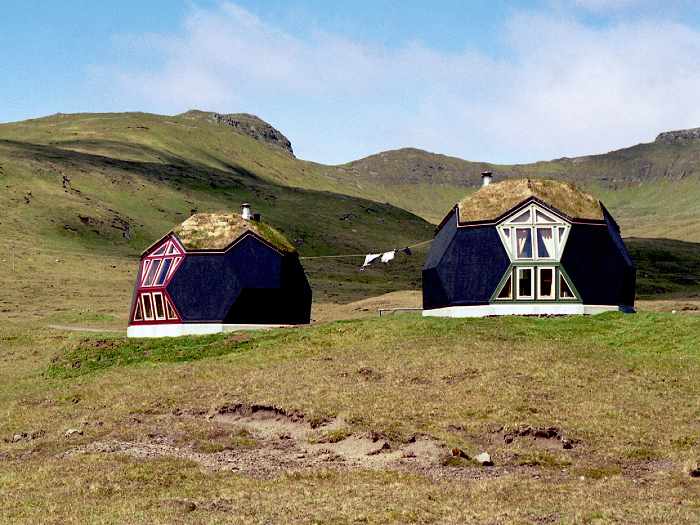 The dome can be build at any location and to any soil or ground conditions. The best foundation is a reinforced plinth in concrete 30 cm to 60 cm above ground level. Otherwise foundation is a solid wooden posts/beam construction mounted to ground/basement with iron bolts. Foundation is in general adapted to local conditions.
This solution is preferable in the arctic zone, while the same wooden construction also can be practiced if building on posts on shallow waters.
A third and more simple solution is to place a solid stone to each corner of the dome, and fill out the side-gaps with local material, i.e. bricks and clay.