Order is arranged to fulfill individual wish on dome arrangements
When ordering an Easy Dome you will receive a proposal for project arrangements, interiors and building materials
Start-up and preparations for making requests on quotation
The dome, windows and doors, and flashings, are all necessary in order to build an Easy Dome for residence or vacation. These building parts are ordered by our company on behalf of the builder. Additional the builder will need a proposal on interior design and materials, appliances, and heating and power technologies. Builder will also receive a budget for the outlined project.
Before a request on quotation is made, it is necessary to examine municipal/local building regulations i.a., relating to the building permit, as to ensure that the funding is available.
Purchase and delivery of Easy Domes domehouse (in 5 steps)
Before project initiation, builder must examine demands and regulations stated in the municipal/local plan for the area of building. Especially number of floors and maximum building height affects a building permit. Domes in 56 m² – 109 m² are to be considered being no less than 1,5 and 2 floor houses.
1. Proposal for the interior design.
Upon request on building an Easy Domes domehouse, a proposal is made for the interior design. The process of interior designing is a back and forth work process between builder and KT- Architects. In this process there is also a focus on choise of materials, installations i.a., and builder is given advise on sustainable solutions.
Building cost is calculated carefully, a budget is made together with a project report with an overview on building materials and construction parts. With these calculations and with drawings for terrain, soil, sewerage and water, it is possible to apply for a building permit, and also funding/construction finance at a bank.
When decided to complete the planned project, a contract proposal is sent to builder. This heighlights in details the contents of delivery – everything from prefabricated parts, project contents including the building permit, energy calculations, trade contracts, supply materials, time of delivery, terms of payment, warranty inspection, liability and legal rules etc. The contract is signed when builder has obtained the building permit, and when an order is made on dome(s), windows etc.
2. Building permit, contract and drawings
When decided to fulfill the project, building permit is obtained and the contract is signed, all drawings are made for contractors and craftsmen. With an overview on materials and work reports for carpentry, soil and concrete work, plumbing, and other contractors, builder can collect offers / apply for tender at fixed prices by various contractors or from a total-contractor.
If builder is planning a DIY project, it must be noted, that responsibility lies entirely on builder, and no advisor warranty or liability guarantees can be granted
When a dome is to be assembled and mounted onto foundation, a representative from KT-Architects will be at the building site offering advise and guidance, also regarding further mounting of windows and flashings, and how to carry on outside work.
When the house is sealed and finished outside, work continues indoors, with building of walls, insulation, floors, ceiling etc. Other workers, as electricians, joiners, masons i.a., also need to do their part of the project. The building owner shall contact a local building advicer to assist in coordinating work- and time plan as to follow-up with inspection on works carried out.
In the process of building there must be inspection on all work by contractors in order to make sure these get the quality, which both project content and contractors delivery have agreed upon.

Varranty inspection is made by KT-Architects when the building is finished, next after 1 year, and the final inspection after 5 years. This to make sure everything is in a proper order and without any errors.
We recommend the use of sustainable materials which are CE-marked and environmental certified. Some country have requirements in building relulation with demands to max use of energy for heating and hot water.
Suitable materials for insulation is wood- or paper wool combined with sheep wool or flax. Exterior walls and roof is ventilated at all edges.
Outside wall can be EU-certified impregnated wood-boards from Superwood.dk, and roof is easy laid with shingles from Icopal.dk, a grass-turf roof in 14 cm, or / and solar panels.
Construction time for a family dome is about 3 months including soil and concrete foundation work. By wish of a key-ready project / construction delivery of a family dome, all-inclusive with fixed installations, a builder must expect a building cost from 2.000 to 3.000 Euro per m² including VAT – calculated on net floor area.
Naturally – terrain, choise of building materials and fixed installations will affect the cost, and different contractors also varies in their price and offer.
Prices on prefabricated domes including windows, doors and flashings, ex.VAT. Delivery will be imposed with 15% in administration and processing fee.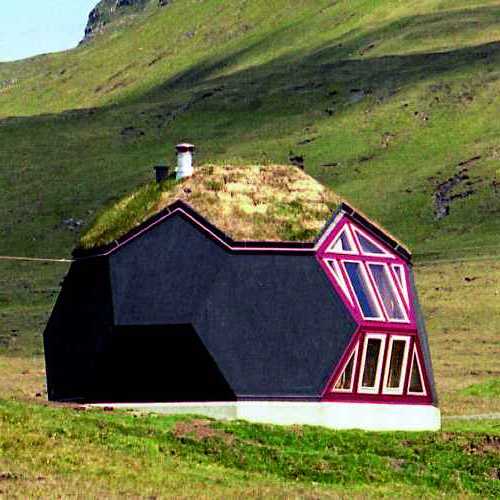 25 m², 1 unit, incl. fittings 
Windows, one main door, aluminum, fittings a.m.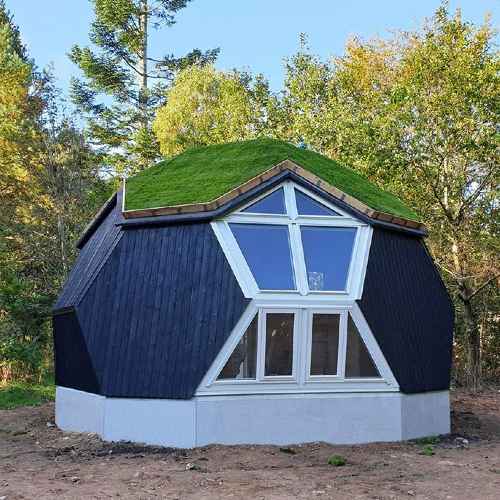 31 m², 1 unit, incl. fittings 
Windows, one main door, aluminum, fittings a.m.

40 m², 1 unit, incl. fittings 
Windows, one main door, aluminum, fittings a.m.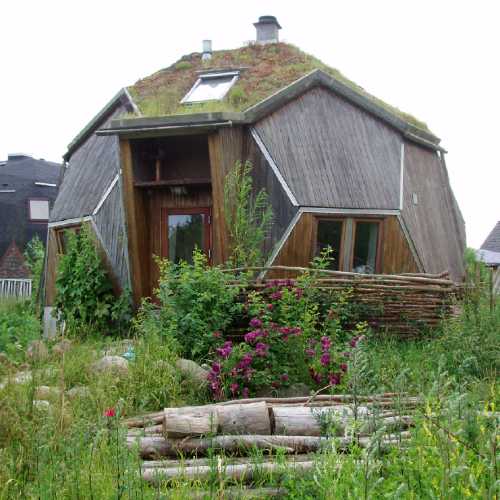 56 m², 1 unit, incl. fittings 
Windows, one main door, aluminum, fittings a.m.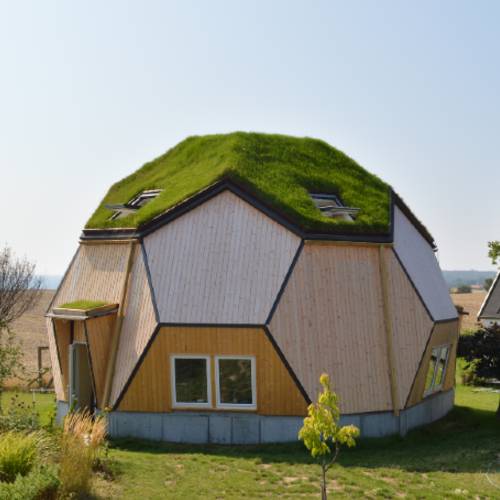 85 m², 1 unit, incl. fittings 
Windows, one main door, aluminum, fittings a.m.
109 m², 1 unit, incl. fittings 
Windows, one main door, aluminum, fittings a.m.